Seven years ago in a sleepy English village a doorbell rang. In that moment, Lauri Love's life changed completely. Lauri was arrested at the door. He was accused of hacking into US government websites and sharing employee data as part of an Anonymous protest. He faced extradition and 99 years in US jail. That extradition request was denied seven years ago, but the allegation against him still stands.
Producer Alice Homewood first met Lauri Love through friends in 2013. She got to know this big-hearted, peace-loving person who liked to wheel his sound system through the streets of Norwich sharing techno music with the world. Three months later his face was splashed across the front pages of the international press and he was labelled a dangerous criminal by the US government. Alice tries to understand how her gentle friend came to be accused of one of the biggest cyber-crimes in history.
Lauri has a vision for a better world. Through the eyes of his friends, family and autism expert professor Simon Baron Cohen, we learn what it's like to be Lauri, living with a calling that he can't refuse.
Two years ago Lauri learned he was safe from extradition but he is still not a free man. Today, he is in legal limbo and trying to build a life there. We follow Lauri over six months, as he starts a new job, attempts to move out of his parents' home and deals with family illness, all with the constant threat of arrest hanging over him.
This is part of the Rulebreakers series from BBC World Service in collaboration with Sundance Institute.
Listen to the full 
radio documentary
and watch our short film for BBC World Service and Sundance Institute collaboration. It was aired on Facebook, Twitter and made the 'Must See/Top Video Stories' section of BBC News.

The process consisted of frame-by-frame hand-painting and colouring, using white animation layout paper on a light box. Then each individual drawn frame was scanned, before being composited in Adobe After Effects. The images were inverted, so the sequences would have a black background and the colours contrasted.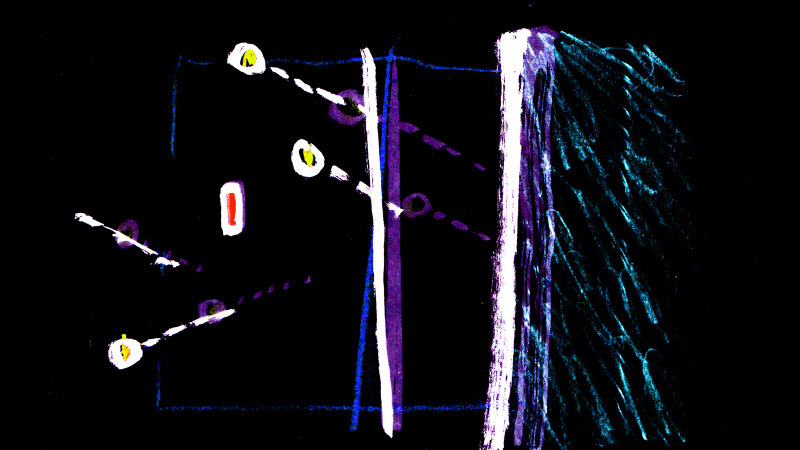 Producer / Presenter: Alice Homewood
Animators: Tim O'Leary & Moira Lam

IMAGES: Tim O'Leary & Moira Lam